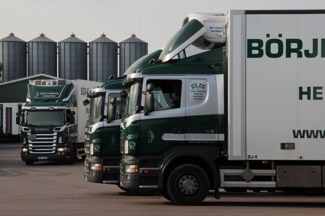 Specilalised trucks were and still are one of our distinguishing features.
Combined with competent drivers, this allows us to deliver goods with precision.

Our vehicle fleet consists of curtain side trucks, vans, trailers, special trailers, controlled temperature vehicles and double cargo platforms.

We have a total of 150 vehicles available.

We offer customised solutions in haulage, forwarding and storage with our customers´requirements in mind.



Frozen-goods transports

Temperature transports

Heated transport

ADR transport

Open trailers (for transporting prefabricated building units and walls)

Explosives

High cargo

Long cargo

Wide cargo

Intermediate floor/double cargo platforms

Joloda (equipment for loading and unloading paper reels)

Express

Valuable cargo

Heavy goods

Openable side

Sliding roof for overhead crane loading/unloading

Hazardous waste
Our domestic network starts in Helsingborg as a hub and is then extended based on our three other Swedish terminals:
Gothenburg, Karlstad and Stockholm.

Good storage facilities are available in Helsingborg, Gothenburg and Karlstad.

Our washing halls in Helsingborg and Gothenburg also allow external carriers to use the service.

Our international network starts with Helsingborg as a hub and is then further extended in Central, South and West Europe.
We have daily departures for both export and import goods.

When time is at a premium, we also offer express transports.

Our German company with terminal in Hamburg allows efficient transport solutions and offers our customers both short-term and long-term storage.

Our German drivers are, similar to their Swedish colleagues, skilled permanent staff and drive modern trucks owned by their own employer.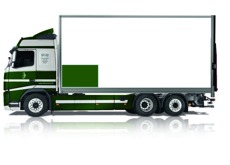 Environmentally friendly and efficient

Our large vehicle fleet allows us to build an efficient network. With frequent departures, your cargo will arrive at its destination fast.

Your cargo is transported together with other cargo, which is good for the environment.