Office. +4654 - 85 08 00
Fax. +4654 - 85 08 81

Address:
Välsviksleden 214
656 39 KARLSTAD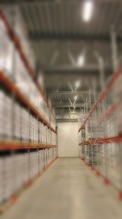 We offer both short-term and long-tern storage in fine and modern premises for almost all types of goods.

The premises are equipped to maintain a constant temperature, high level of security and spacious areas for handling the goods.

We provide safe overall solutions for the company's goods management.