We offer domestic and international transports with quality and precision.

Regardless if your goods are long, high, wide, heavy, temperature, cold or fragile, we transport it according to our motto:


Goods in the right condition, at the right place at the right time.






Lördagen den 9 april, var det tid för den årliga Nostalgiträffen för både chaufförer och bilar som kört i företaget genom tiderna.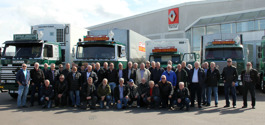 Läs hela inlägget »
Our Man-Power is our clients' strength.

When we carry freight, our drivers act as ambassadors for both our customers and us.

We adapt the transport to suit our customer´s requirements.
Our experience and flexibility allow us to handle most tasks.

We endeavour to have the smallest environmental impact, from booking all the way to delivery.

We use state-of-the-art vehicles, which is good both in regard to saftey and the environment.

We work according to ISO 14001 and have been certified for the standard since 2001.


Telephone: +46 42 29 50 50
Mail: forfragan@bjtrucks.com

or you can send us a message below