We offer domestic and international transports with quality and precision.

Regardless if your goods are long, high, wide, heavy, temperature, cold or fragile, we transport it according to our motto:


Goods in the right condition, at the right place at the right time.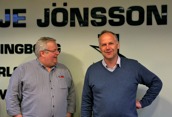 Jonas Sjöstedt, partiledare för Vänsterpartiet, passade idag på att träffa Ulf och Fredrik Jönsson på åkeriet i Helsingborg.

Jonas bjöds bland annat på rundvandring på anläggningen för att se hur arbetet i ett åkeri går till och vilka verktyg som används idag för att sedan åka med i en av våra lastbilar till Stockholm.

Intresset att få se hur åkerinäringen ser ut är hos våra politiker stort idag, och med stolthet visar vi gärna upp vår vardag där vi hoppas kunna skapa en framtid för sunda transporter.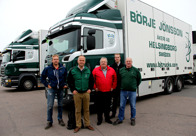 Läs hela inlägget »
Our Man-Power is our clients' strength.

When we carry freight, our drivers act as ambassadors for both our customers and us.

We adapt the transport to suit our customer´s requirements.
Our experience and flexibility allow us to handle most tasks.

We endeavour to have the smallest environmental impact, from booking all the way to delivery.

We use state-of-the-art vehicles, which is good both in regard to saftey and the environment.

We work according to ISO 14001 and have been certified for the standard since 2001.


Telephone: +46 42 29 50 50
Mail: forfragan@bjtrucks.com

or you can send us a message below